5 Questions to Ask Your Hygienist When Visiting Your Dentist in Spring Valley
Posted by Dr. Michael Most on Jun 3 2019, 12:18 AM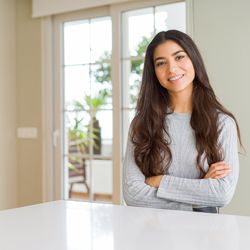 When it comes to the health of your teeth and gums, you often think about your home oral hygiene habits and the care that you receive from your dentist in Spring Valley. While they are essential, you have another valuable asset by your side to promote a healthy smile—your dental hygienist. As a trained professional, they can provide you with added advice and answer your questions to help you foster your dental health. During your next routine appointment, there are five key questions you should ask your hygienist.
1. How can I improve my oral hygiene?
During your appointment, your hygienist will take the time to clean your teeth thoroughly. They will see areas in your mouth that you may not clean well or detect potential hygiene issues that can lead to dental complications. As a result, they can offer recommendations to help you make the most of your brushing and flossing habits. No matter if you need to spend more time brushing your molars or need dental products for your specific needs, they can help you improve the health of your smile at home.
2. Why do I have bad breath?
It is normal to have bad breath from time to time; however, if it is ongoing, you likely have high levels of bacteria in your mouth. Your hygienist can help you combat the odor by discussing ways to prevent bad breath, such as flossing, using a mouth rinse, or cleaning your tongue better.
3. Are my gums bleeding?
Bleeding gums is often the first sign of periodontal disease, which is an infection that occurs in the gum tissue. As your hygienist cleans your teeth, they may spot signs of the infection, like bleeding, red, or swollen gums. They can provide you with oral hygiene tips to help reduce harmful bacteria levels in your mouth to keep your gums healthy.
4. Do adults need fluoride?
Fluoride is not just beneficial for children, but adults as well. It helps to keep the enamel strong to prevent tooth decay. During your appointment, your hygienist can explain how you can benefit from it to keep your teeth healthy. They can offer suggestions to increase your fluoride use, such as drinking more tap water or using a fluorinated toothpaste.
5. How often should I have my teeth cleaned?
Even with the best home oral hygiene habits, there are still areas in your mouth that you cannot clean at home. As a result, it is best to have a professional cleaning at least twice a year to prevent potential issues, like tooth decay and gum disease.
Promote a Healthy Smile Today
Your dental hygienist will play an active role in your oral health. Take the time during your next appointment to get the answers to your questions for a healthy smile.
About Dr. Most
Dr. Most is a trusted dentist in the community who provides superior dental care. With a focus on prevention, Dr. Most and his team will help you reach your oral health goals. If you need a cleaning and checkup, contact our office today to schedule an appointment.