How Do I Deal with My Dental Anxiety?
Posted by Dr. Michael Most on Aug 14 2019, 12:53 AM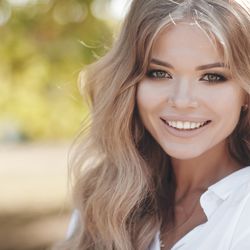 There is nothing to fear but fear itself.
Okay, but what about the dentist?
The fact of the matter is millions of people neglect their smiles because they simply cannot overcome their worries about dentistry. Fortunately, there is help with sedation. Depending on how anxious you become, your dentist can offer the level of sedation you need to relax and have dental care. Read on to learn more about the available sedation options.
Nitrous Oxide is Perfect for Mild Nerves
Nitrous oxide is more commonly known as laughing gas. This sedation is ideal if you tend to get nervous right about the same time that you sit down in the dentist's chair.
A small mask is placed over your nose before the dentist begins treatment. As you breathe, you inhale a measured amount of nitrous oxide and oxygen. Almost immediately, you'll feel your body lighten, and your worries will simply melt away.
At the end of your appointment, the dentist removes the mask, and within a minute, you'll come back to senses. The effects of nitrous oxide are quite temporary, so you can go about your normal routine after seeing the dentist.
Oral Sedation for Moderate Anxiety
On the other hand, if your dental anxiety strikes before arriving for your appointment, then oral sedation may be the way to go. With this, the dentist prescribes a small dose of an oral sedative. You take the pill an hour or two before arriving at the office. By the time the dentist is ready to begin treatment, you will be completely relaxed and feel ready for a nap.
And while many people think they've slept through their treatment, they are actually awake and able to converse with the dentist and staff. The effects of the sedative, however, often cause amnesia, so you may not be able to remember your time in the office.
IV Sedation for Extreme Cases of Anxiety
For patients who have extreme dental anxiety or fear, there is IV sedation. As the name suggests, the sedative is delivered intravenously. In this way, the level of sedation can be well controlled. IV sedation may also be advised for patients who have physical disabilities that prevent them from sitting comfortably for any length of time in the dentist's chair as well as special needs patients.
For both oral sedation and IV sedation, a relative or close friend must drive patients to and from the dentist. After the appointment, resting at home is highly recommended until the effects have fully worn off.
If you haven't seen the dentist in a while because of anxiety, then consider sedation dentistry. Don't let your nerves keep you from having a healthy and beautiful smile!
Meet the Doctor
Dr. Most is a general, preventive and cosmetic dentist in Las Vegas, NV. He also specializes in providing dental care for senior citizens living in the Spring Valley area of the city, as well as patients from Henderson, Paradise, Summerlin, and Spanish Trail.