Implant dentistry: Implants or bridges?
Posted by Dr. Michael Most on Sep 27 2019, 12:16 PM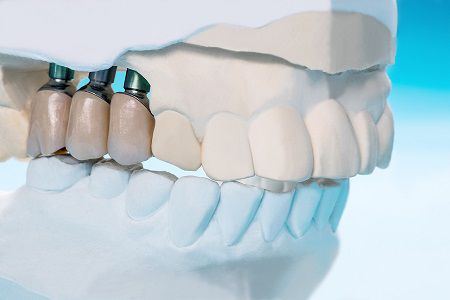 When it comes to something as important as fixing your smile, the two most popular solutions in dentistry are dental implants and dental bridges. These two kinds of solutions are technically very different from each other, and they both address various concerns. At the very outset, in terms of their durability, implants are more long-lasting and may last even a lifetime as compared to dental bridges that need to be attended to every couple of years.
One of the reasons why dental implants are more durable is primarily because of their entrenching procedure. It is a specially engineered tooth attached to a titanium screw that is implanted into your jawline. The jaw eventually heals, which firmly entrenches the false tooth into the jaw, making it a permanent fixture. Dental bridges, on the other hand, are bridges attached to remaining healthy teeth across the space of the missing tooth. Essentially, this is also a false tooth held in place by abutting it with teeth on either side.
Pros and Cons of Dental Implants
One of the most significant advantages of Implants over bridges is that they pose a less burden to surrounding teeth and also promote healing of the bone structure and gums. It improves oral hygiene and overall dental health. A good quality implant can also last a lifetime, making it one of the most convenient replacements for tooth loss.
Among the disadvantages of implants, it is a surgical procedure that can be an expensive and time-consuming process that may or may not be covered in your dental health insurance. The implants best suit patients that are not affected by osteoporosis of the jawbone, as the jawline forms this base that holds the tooth in place. In the case of a weak jawbone, the dentist may be required to graft a bone on the weakened portion to ensure the implant has a firm root.
Pros and Cons of Dental Bridges
The most apparent advantage of bridges is that it is one of the most cost-effective and quick methods for replacing teeth. It doesn't require bone grafting like dental implants and can be used by all patients.
When it comes to disadvantages, the biggest drawback of bridges is the strain they place on surrounding structures, especially the two teeth that are attached on either side. It is primarily because of this that bridges do not last a lifetime. They are a quick-fix method that does not address the structural issue.
Mixed solutions?
There can be an instance when a patient who may have lost a significant number of teeth in a row, a dentist may recommend a mixed approach. This is not unusual and works best for patients who lost most or all of their teeth in a certain portion of their mouth.
In any case, it is best to consult with your dentist about which method may be best suited for you.