Instant New Smile with Porcelain Veneers in Spring Valley
Posted by Dr. Michael Most on Feb 3 2017, 01:14 AM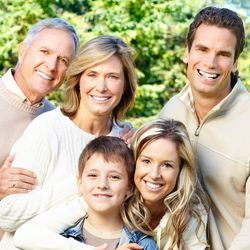 It's amazing what confidence can do for a person. It can drive them to grow and change in ways they never imagined, but gaining that confidence is the tricky part. Many people look to get it from their appearance, so off to the gym, they go, hoping it will pay off in a few months. In today's world, you want results now, but how can you completely change your appearance and not have to wait? A transformed smile can give you the exact kind of boost you are looking for, and Dr. Most can do it with just one treatment: porcelain veneers in Spring Valley.
The Benefits of Porcelain Veneers
The reason so many regular people and celebrities alike choose porcelain veneers to revitalize their smile is because they are one of the most comprehensive cosmetic treatments available. One simple procedure does all of this for you:
Fixes cracked and broken teeth
Instantly whitens your smile
Immediately straightens your teeth
Closes large, obvious gaps
Separate procedures to do all of this would be both time-consuming and expensive, but porcelain veneers can do it in just two easy visits. That's all it takes to eliminate any imperfections in your smile and make it truly shine.
How Porcelain Veneers Work
Porcelain veneers are highly-customizable ceramic coverings that are fitted to the front of your teeth. They can give you a subtle change or completely transform your smile. It's all up to you. The ceramic is extremely durable, natural-looking, and practically stain-proof.
The first step to getting your porcelain veneers is to visit Dr. Most so you can describe what kind of results you are looking for. Once that is decided, the procedure will start with Dr. Most removing a small portion of your teeth's enamel to create room for the veneers. This process is completely painless, as he only needs to remove about 2mm, which is only the thickness of a contact lens. An impression will then be taken of your teeth and sent to a local dental lab to fabricate your veneers.
When you return about a week later, Dr. Most will bond the veneers to your teeth using a composite resin. It will not only provide you with a reliable, secure hold but will also be custom-shaded to blend in seamlessly with your new smile. After this, you are finished, and the results are instant. Maintenance is easy, as regular brushing and flossing can help your veneers last up to 20 years.
Get Started Today
See, you don't have to go through some arduous process to get a makeover. You don't need to spend thousands on clothes or a gym membership that you won't ever use. You can enhance your appearance almost instantly, giving you more time to take on the world and accomplish your goals.
What are you waiting for? You can start getting the smile you've always wanted; you just need to make an appointment today. We're ready to give you the smile of your dreams.