Local Dentist Asks, "To Keep or Not to Keep Metal Fillings?"
Posted by Dr. Michael Most on Jul 30 2019, 12:48 AM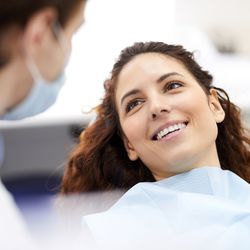 Imagine if William Shakespeare was a dentist for a second. "To leave my metal fillings or not to leave my metal fillings, that is the question!" As funny as that sounds, many patients ask themselves that very question every day.
With advances in dentistry, many dentists don't even offer metal, or formally known as amalgam, fillings anymore. So, should patients have their old, dark metal fillings replaced with new-age tooth-colored fillings? Your Spring Valley Dentist can help you come to a decision today with this week's blog post.
Why has dentistry transitioned from metal fillings to tooth-colored fillings?
In past dentistry practices, many oral health practitioners would turn to silver fillings for their durability. They also helped to seal the tooth from future decay and dental issues. This approach is still used in modern dentistry, but it's not as common. Instead, many dentists rely on tooth-colored fillings to produce the same results.
If you've ever heard a dentist refer to a white filling or composite filling, they're talking about the tooth-colored filling. The dental material that makes up a tooth-colored filling is 100% mercury-free (unlike metal fillings). This makes it a better option for patients that experience metallic allergies.
Reasons for a Tooth-Colored Filling
You may need a tooth-colored filling in Wall Township because of cavities caused by tooth decay. There are a few other reasons that your dentist may recommend getting a filling.
Fractured teeth
Loss of tooth structure
Tooth discoloration
Replacing older fillings
Cavities
Love Your Smile Again with Tooth-Colored Fillings
Though metal fillings are effective at treating dental cavities, they can lead to future dental problems and aesthetic issues. Consider all the benefits of a tooth-colored filling before choosing which dental restoration option is best for you.
Improved confidence by restoring your smile to a cavity-free appearance.
Safer teeth since composite resin do not expand and contract with temperature differences like metal fillings.
Unlike metal fillings, tooth-colored fillings require much less of your natural tooth to be altered for its placement.
Composite resin easily bonds to your teeth, fusing with your body, which makes it easy to bond and acclimate to compared to foreign metals.
Your tooth-colored fillings are custom shaded to match your surrounding teeth perfectly.
Composite resin will not change colors or discolor your surrounding teeth like metal fillings, no matter how long you have them.
Tooth-colored fillings are long-lasting and durable if you properly care for them.
If you're tired of the dark spots in the back of your smile, reach out to your dentist to discuss getting tooth-colored fillings in Spring Valley.
Meet your Dentist
Dr. Most has been practicing dentistry for years and becomes an expert in this field. He's been featured in Las Vegas Life, a local monthly magazine, as their Top Dentist each year from 2001 to 2014. The kicker is that this award is determined by his peers, truly showing that his dental service is second to none. If you would like an opportunity to speak to Dr. Most about your dental health and how he can help, simply call our Las Vegas office.