Where to Find Quality Senior Dental Care in Spring Valley
Posted by Dr. Michael Most on Aug 31 2017, 12:47 AM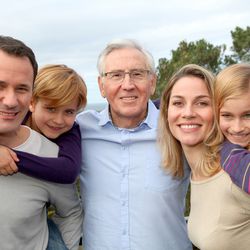 As we grow and change from children to adults, our dental needs change, too. For example, older people deal with tooth loss and are at a much higher risk of developing gum disease than young patients. Finding an experienced dentist to care for a senior patient is of the utmost importance, but loved ones and caretakers may struggle to find senior dental care in Spring Valley. Dr. Most and his team provide personalized, compassionate dentistry for patients of all ages.
Strong oral health is essential no matter your age, but caring for the teeth and gums becomes especially important with age, as the risk of gum disease sharply increases. The gums are the entry point to the bloodstream, and the rest of the organs and infection here can quickly spread throughout the body. Gum disease causes tooth loss and has been linked to heart trouble, high blood glucose levels, and a host of other health issues. Patients who have healthy teeth and gums in their old age are more likely to enjoy better overall health.
Oral Health Considerations for Senior Citizens
There are several considerations for a senior's dental care. From memory loss to mobility issues and other potential barriers affecting routine dental hygiene, older patients often need more support in maintaining strong oral health.
Some things to think about regarding your loved one's teeth and gums include:
Memory loss can make it difficult to remember to brush and floss
Arthritis and other mobility problems challenge proper brushing and flossing technique
Medications causing the dry mouth, reduce saliva flow and increase risk of tooth decay and gum disease
Ill-fitting dentures can rub sore spots or blisters
Comfortable Tooth Replacement
Most people will have lost at least a few teeth by the time they get to be senior citizens, so finding and maintaining an effective replacement is vital for senior citizens and their caretakers. It's difficult to maintain a full, balanced diet without a complete set of teeth, and many seniors may deal with poor nutrition due to issues chewing and biting after tooth loss. Painful oral sores can develop as a result of ill-fitting dentures, too, leaving the mouth at a higher risk of severe infection.
Full and partial dentures are often a good option for senior patients who cannot undergo a surgical procedure for dental implants but still need a suitable tooth replacement. They are custom-fitted and renew a patient's ability to eat, speak, and smile with ease and confidence. No matter your loved one's dental needs, Dr. Most provides thoughtful, personalized restorative and general dental care for each and every patient.
Schedule an Appointment Today
If you are caring for a senior citizen or looking for a new dentist to help Mom and Dad or Grandma and Grandpa enjoy better oral health, please don't hesitate to get in touch with our office. Book a visit to help your loved one receive the respectful, compassionate dental care they deserve!