Your Dentist Shares the Secrets to a Red Carpet-Ready Smile
Posted by Dr. Michael Most on Aug 1 2019, 12:34 AM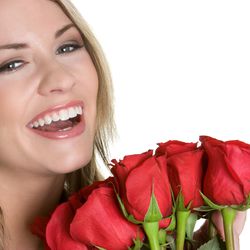 Did you watch the Academy Awards show earlier this month? You probably oohed and awed over all the gorgeous celebrities. The women in their fancy gowns, elaborate hairstyles, and stunning shoes looked amazing! The men sported their own head-turning styles. But did you look at their teeth? The stars we all admire work hard to keep their appearance fantastic from toe to tip, so they can't afford to skip any part of a good oral hygiene routine. Your dentist in Spring Valley is here to share a few tips that you can use to get a smile that's worthy of the red carpet (even if you don't plan on starring in any feature films).
Brush at Least Twice a Day
Everyone knows that brushing is important because it gets rid of plaque and freshens breath, but it does even more. It can also remove surface stains, and the fluoride in toothpaste can help to fortify your tooth enamel.
While brushing, ensure to cover all your teeth surfaces, including the side that faces your tongue and the roof of your mouth. Each brushing session should last a total of about two minutes. However, you shouldn't be so eager to brush that you do so aggressively or immediately after you eat. Wait about 30 minutes to an hour after you consume foods or drinks, and be gentle, so you don't accidentally damage your teeth or cause gum recession.
Keep Your Tongue Clean
Too many people forget to clean their tongue as part of their daily routine, and that's a big mistake. Bacteria can accumulate in this little sense organ, leading to a significant cause of stinky breath. The bacteria there can also transfer to your teeth and negate the effects of brushing and flossing. It is a great habit using a toothbrush to clean your tongue, but to get the best results, try using a tongue scraper instead.
Carry Flosser Picks
The second a celebrity gets a piece of spinach stuck between their teeth; the media goes into a frenzy. While you might not have paparazzi following you around, you still don't want to discover that your smile has a new, unwanted accessory. By keeping a flosser pick handy at all times, you can give your teeth a brief cleaning after each meal. But remember — picking out food from between your teeth after meals isn't a substitute for thorough flossing daily.
Visit Your Dentist
Quite a few celebrities have undergone cosmetic dentistry treatments, but even for those you haven't, you can be fairly sure that they're at least diligent about getting regular professional cleanings. The tools that the folks have in your dentist's office can deliver a better clean that what you get at home. Plus, by spotting problems early on, you can get any issues fixed before they pose a severe threat to your smile's health and appearance.
Want a smile that makes you feel like a star? Achieving your goal starts with a great oral hygiene routine.
About the Dentist
Dr. Most is one of the top dentists in Las Vegas thanks to his unwavering commitment to providing excellent service to his patients. Whether you want a simple cleaning or would like to discuss cosmetic dentistry options, he would be happy to help. Please feel free to contact our office at 702-871-0304.