Your Las Vegas Dentist Welcomes You To Our Blog!
Posted by Dr. Michael Most on Jul 1 2016, 01:59 AM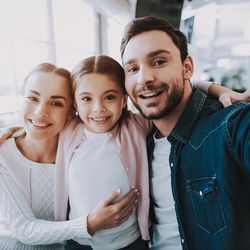 Dr. Most has been providing high-quality dental care to patients in Las Vegas for decades, and now we're proud and excited to welcome you to our blog! Here we'll be able to share more in-depth information about our office and the services we offer, as well as offer patients helpful tips on several different topics such as children's dentistry and senior dental care. We will focus on various aspects of dentistry each month, so be sure to check our blog regularly as it'll be a great source of information and may answer your questions. Today we'll give you a quick overview of our services as your Las Vegas dentist welcomes you to our blog!
Preventative Care
Dr. Most believes that prevention is truly the best medicine when it comes to dental care, and that's why we hope to see you every six months or twice per year. These regular visits allow us to remove plaque build-up, as well as screen you for issues such as periodontal disease, oral cancer, and tooth decay. Detecting these conditions in their earliest stages allows you the best chance for the most successful and least invasive treatment.
Sedation Dentistry
We understand that many patients experience fear or anxiety when they go to the dentist. Dr. Most is kind and gentle and have many years of experience in helping patients with anxiety receive the care that they need. For patients who require more assistance, we offer options for sedation dentistry. Dental sedation can help take the edge off so you can relax and feel at ease during your appointments, or we have options where you'll be completely asleep through IV sedation. This type of sedation allows patients to complete multiple procedures during one appointment.
Dental Implants
For patients who struggle with one or more missing teeth, we offer implant dentistry. This is by far the best option that dentistry has to offer for replacing missing teeth. Dr. Most is experienced in restoring smiles with dental implants, and he can guide you through the process from start to finish. If you struggle with missing teeth or are otherwise unsatisfied with the appearance of your smile, contact Dr. Most to learn more about your options for restoring your teeth and your oral health.
We hope that our first blog has been both interesting and informative and that you will visit us for more information in the future! If you have questions about the services, we offer, please contact our office today to learn more.