Your Spring Valley Dentist Examines the Window to Your Body
Posted by Dr. Michael Most on Jul 23 2017, 02:20 AM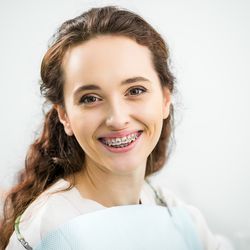 Summer break is the perfect time to take advantage of the available time to make your health care appointments—especially when it comes to your dental care. Did you know that Delta Dental Plans Association found that up to 30% of children miss school due to oral health problems? That's an estimated 8.6 million children! It's critical for all the members of your family to visit your Spring Valley Dentist every six months to prevent dental issues. Let's take a look at why you should consider scheduling an appointment soon!
Why is visiting the dentist semiannually important?
Here are some scary but very real facts. According to the Centers for Disease Control and Prevention (CDC), 47.2% of American adults over 30 years old have advanced gum disease. Your chances of developing gum disease only increase with age, rising to 70% of adults aged 65 and older for both men and women.
Studies have also shown that many men don't take the time to visit their dentist as often as women do. Many signs of periodontal disease and other health problems don't show immediately. Symptoms may be sneaky and progressive, not showing tell-tale signs until the disease is already in its advanced stages. What you may think is "a little normal bleeding" during your brushing routine may be a red flag that your gum health is declining!
If you visit your dentist every six months (at least), these diseases have a higher chance of being noticed and addressed. This will improve your retention rate and ensure a longer life for your natural teeth. Dr. Most can keep an eye out for serious dental problems and address them with thorough dental examinations, professional deep cleanings, and a personalized dental treatment plan at the end of your appointment.
Oral Health: A Window to Your Overall Health
Like any other area of your body, your mouth is full of bacteria—some are better for you than others. Your body's natural defenses against dangerous bacteria, unfortunately, isn't enough. Strong, sticky plaque attacks and clings to your teeth. You must brush regularly, floss once a day, and visit your dentist for professional cleanings.
If the harmful bacteria take over your mouth, you may be susceptible to infections, tooth decay, and other diseases. Studies have shown that oral bacteria and the inflammation associated with periodontal disease play a role in serious health problems. You become more likely to develop diabetes, heart disease, oral cancer and can lower your body's immune system—making oral health problems more severe.
Schedule Your Appointment Today
Before googling "dentist near me" in a rush because your child has to miss school for a dental problem, contact our office and schedule a preventive appointment way ahead of time. Our dental team takes pride in putting our patient's health and well-being first.
Even if you feel like your teeth and gums aren't as healthy as they can be, our office is a judgment-free, helpful environment. Dr. Most is more than happy to assist patients looking to turn their oral health around. Contact our office today to schedule your appointment.